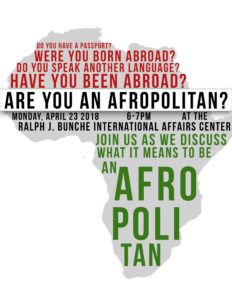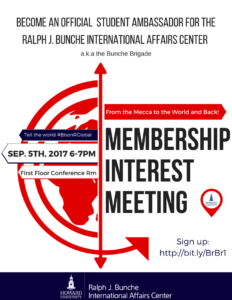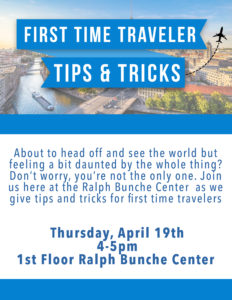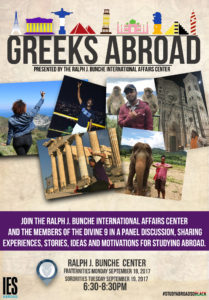 August:
Spring Application Opening – August 20!
Welcome Back Bison Abroad Mixer– On August 23, 6pm, College Hall South Kitchen.

This is a special event for all Bison who studied abroad, especially during the spring and summer 2018. RSVP HERE. Refreshments provided!
September:
Study Abroad Information Sessions Begin!- August 21, 3-4 pm.
Show & Tell the World: Fall Study Abroad Fair– On Sept. 6th, 2018, from 3-7 pm, Reading Room.
RBC Student Ambassador (Bunche Brigade) Interest Meeting– Sept 10, 4-5:30 pm, RBC.
Future Engineers, Architects, Scientists & Doctors Abroad (STEM Students)- Sept 18, 5:00-6:00pm. Location: First floor, RBC. Refreshments provided by IES Abroad!
Being a Black Woman Abroad– Weds, Sept. 26th, 6-8 pm. Location: First floor, RBC. Refreshments provided by AIFS!
Financing Study Abroad– Sept. 25, 6 pm, 1st floor, RBC. Refreshments provided by CET Academics!
October:
Being a Black Man Abroad– Weds, Oct. 2nd, 6-8pm. Location: First floor, RBC.
Study Abroad Night of Reflection– October 9 & 10, 2018, from 6:00- 8:00 pm, Location: Bunche Center, 1st Floor.

Spring and Summer 2018 alum will showcase what they took away from their time abroad through photos, film, writing, etc.

Professional Development Workshop: How to formally discuss your Study Abroad Experience– Tues, Oct. 17, 5:30- 7:30pm, RBC first floor.
The Blues: Managing Reverse Culture Shock after Studying Abroad– Tuesday, October 23, 6 pm.
REMINDER: October 15th, Spring 2019 Study Abroad Application Deadline.
Important:  Programs (e.g. CET Colombia) often have application deadlines prior to the Howard deadline due to visa requirements. Plan accordingly.
November:
Teaching English Panel Discussion (tentative)– Tuesday, November 6, 4:30-6pm. Discuss teaching abroad and overview of required credentials application process and deadlines. Representatives from JET, CIEE, and Learning Enterprise will be present. Location: First floor, RBC.
International Education Week! (November 13- 16)

Global Resources Fair!– Nov. 15, 10am- 7pm. Location: IRB Building

Mindful Travelers' Workshop Series– November 26-30 (Required for all spring 2019 study abroad applicants)
December:
Spring 2019 Pre-Departure Orientation– December 1, 2018, 10-12pm, 1st Floor RBC.

#studyabroadsoblack Scholarships recipients announced!