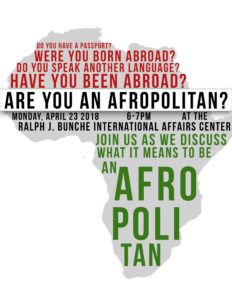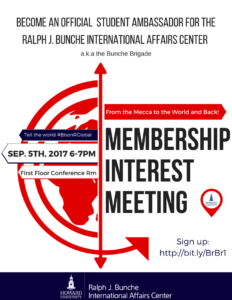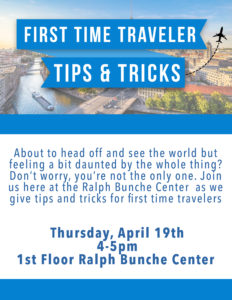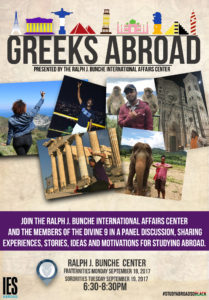 August:
Spring Application Opening – August 20!
Study Abroad Information Sessions Begin!- August 21, 3-4 pm.
Welcome Back Bison Abroad Mixer– On August 23, 6pm, College Hall South Kitchen.

This is a special event for all Bison who studied abroad, especially during the spring and summer 2018. Refreshments provided!
September:
Show & Tell the World: Fall Study Abroad Fair– On Sept. 6th, 2018, from 3-7 pm, Reading Room.
RBC Student Ambassador (Bunche Brigade) Interest Meeting– Sept 10, 4-5:30 pm, RBC.
Full STEM Ahead– Sept 28, 3:00-4:30pm. Location: First floor, RBC. Korean Fried Chicken Provided by IES Abroad!
Financing Study Abroad– Sept. 25, 6 pm, 1st floor, RBC. Refreshments provided by CET Academics!
Being a Black Woman Abroad– Weds, Sept. 26th, 6-8 pm. Location: First floor, RBC. Refreshments provided by AIFS!
October:
Being a Black Man Abroad– Tuesday, Oct. 2nd, 6-8pm. Location: First floor, RBC. Refreshments provided by AIFS!
China and Taiwan Study Abroad Panel: Presented by the HU Chinese Club– Thursday, October 4th, 6-7pm. Location: First floor, RBC. Refreshments provided by Chinese Club!
Study Abroad Night of Reflection– October 9, 2018, from 6:00- 8:00 pm, Location: Bunche Center, 1st Floor. Refreshments provided by CIEE!

Spring and Summer 2018 alum will showcase what they took away from their time abroad through photos, film, writing, etc.

Professional Development Workshop: How to formally discuss your Study Abroad Experience– Tues, Oct. 17, 5:30- 7:30pm, RBC first floor.
Critical Language Scholarship Program Workshop – Tuesday, October 23, 3:30-4:30pm, 1st Floor RBC.
Peace Corps Information Tabling– Tuesday, October 23, 11-2pm, Lobby RBC
The Blues: Managing Reverse Culture Shock after Studying Abroad– Tuesday, October 23, 6 pm. Refreshments provided by CET Academics!
How to Apply for a Passport Workshop- Wednesday, October, 24th, 4:30-5:00pm.
REMINDER: October 15th, Spring 2019 Study Abroad Application Deadline.
Important:  Programs often have application deadlines prior to the Howard deadline due to visa requirements. Plan accordingly.
November:
Teaching English Panel Discussion (tentative)– Tuesday, November 6, 4:30-6pm. Discuss teaching abroad and overview of required credentials application process and deadlines. Representatives from JET, CIEE, and Learning Enterprise will be present. Location: First floor, RBC.
Global Mental Health: The Importance of Psychology & Study Abroad– Wednesday, November 7, 4:00-6:00pm, Bunche Center
International Movie Night!– Thursday, November 8, 5-7:30 pm
International Education Week! (November 13- 16)

Lucy Moten Student Summer Study Abroad Presentations!– November 14, 3-6pm, 1st Floor, RBC

Mindful Travelers' Workshop Series– November 26-30, 4-5:30pm (Attendance at 2+ events required for all spring 2019 study abroad applicants)
December:
Spring 2019 Pre-Departure Orientation– December 1, 2018, 10-12pm, 1st Floor RBC.

#studyabroadsoblack Scholarships recipients announced!